It's a truly magical country, home to some of the world's most beautiful temples.
With around one billion Hindus living in the country, plus a load of other religions being worshipped, India needs a lot of temples to meet demand – and it delivers.
From shines dripping in gold to one or two that are a little naughty, here are our top 12 temples to see in India.
Brihadeeswara Temple, Tamil Nadu
The famous brihadeeswarar Temple built by the great Raja Raja Chola dating back to 11th century AD and considered as World Heritage. Apart from religious perspective, everyone should visit once to know the history & be jaw dropped by the brilliant architecture.
Kedarnath Temple, Uttarakhand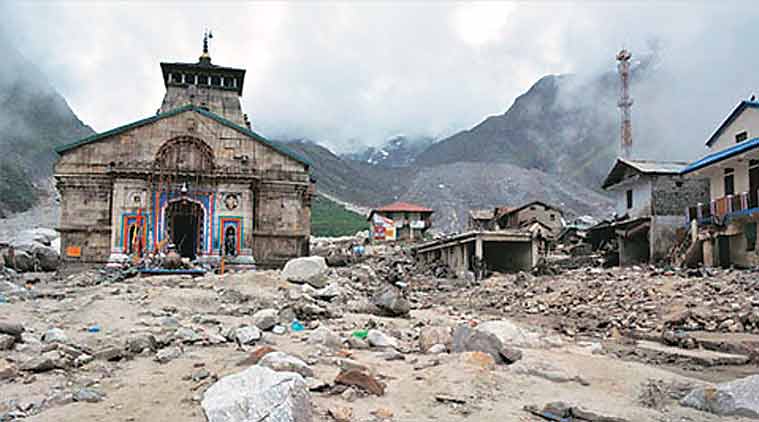 Kedarnath is a town located in the Indian state of Uttarakhand and has gained importance because of Kedarnath Temple. It is a nagar panchayat in Rudraprayag district. The most remote of the four Chota Char Dham sites, Kedarnath is located in the Himalayas, about 3,583 m (11,755 ft) above sea level near Chorabari Glacier, the head of river Mandakini, and is flanked by snow-capped peaks. The nearest road head is at Gaurikund.
The town suffered extensive destruction during June 2013 from flash floods caused by torrential rains in Uttarakhand state.
Konark Sun Temple, Orissa

Konark Sun Temple (Odia: କୋଣାର୍କ ସୂର୍ଯ୍ୟ ମନ୍ଦିର)is a 13th-century CE Sun Temple at Konark in Orissa, India. It is believed that the temple was built by king Narasimhadeva I of Eastern Ganga Dynasty in 1255 CE. The temple complex is in the shape of a gigantic chariot, having elaborately carved stone wheels, pillars and walls. A major part of the structure is now in ruins. The temple is a UNESCO World Heritage Site and has also featured on various list of Seven Wonders of India. The temple is 35 km from Puri and 65 km from Bhubaneswar.
Golden Temple, Amritsar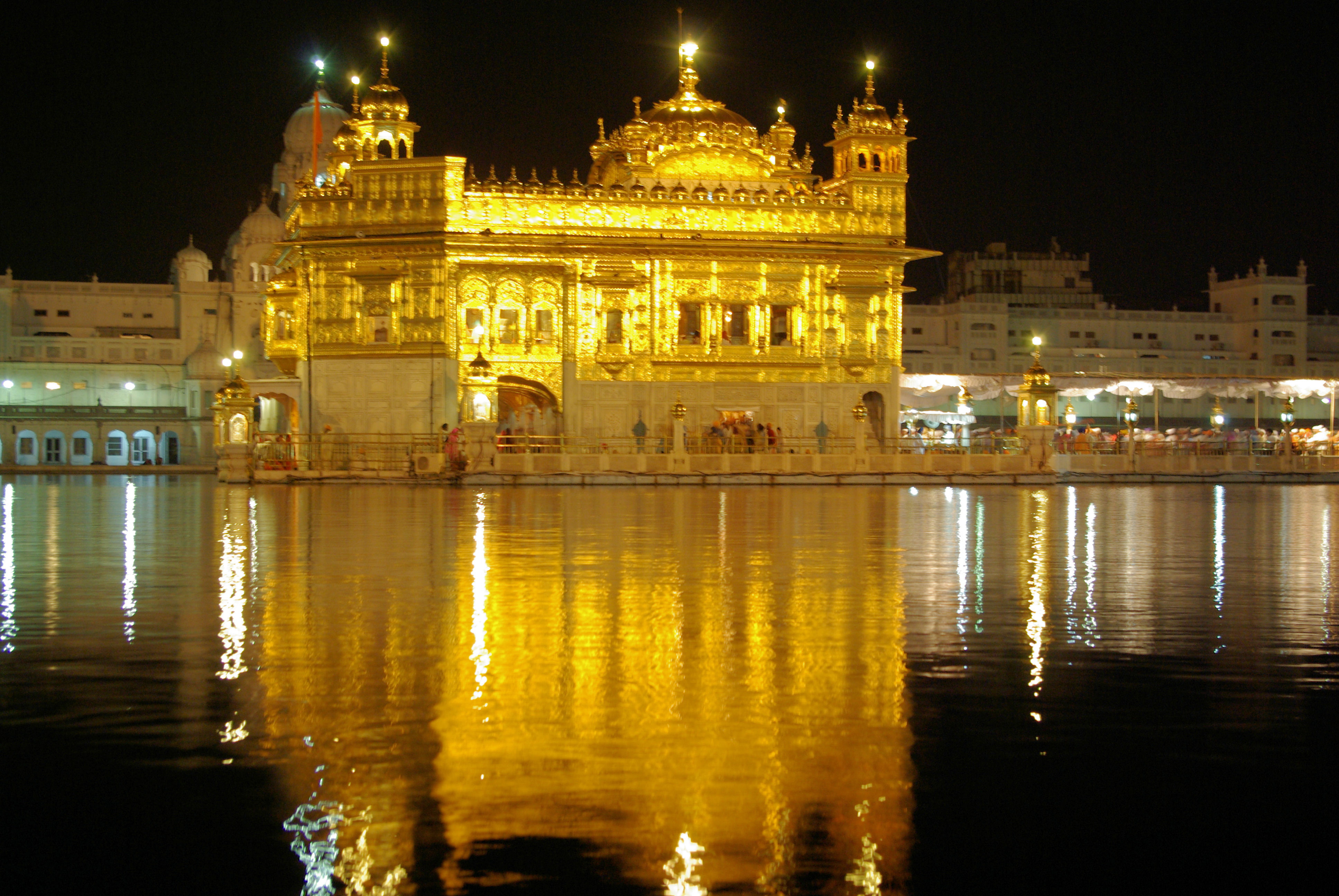 The legendary Golden Temple is famous for its huge golden shrine in the centre of the temple complex.
Ringed by a marble walkway, the Golden Temple is said to have healing powers, and over 750kg of gold covers its surface.
Virupaksha Temple, Hampi
The whole town of Hampi feels like one giant temple with different monuments dotted all around the rocky landscape.
This temple dates back to the 7th century and is thought to be one of the oldest functioning temples in India.
It's also home to Lakshmi the temple elephant.
Ramanathaswamy Temple, Tamil Nadu
Ramanathaswamy Temple is famous for having the longest corridor among all Hindu temples in India.
This corridor stretches for over a kilometre and is winged by 1,212 pillars.
It's considered lucky to walk the entire length of it.
Gomateshwara Statue, Shravanbelagola
Forget David, Gomateshwara is a 17-metre high monolithic statue dedicated to the Jain god Bahubali.
Built in 983 AD, it is one of the largest free standing statues in the world, and in 2007 it was voted as the first of the Seven Wonders of India.
Laxminarayan Temple, New Delhi
One of the first sites people visit when they arrive in Delhi is Laxminarayan Temple.
Devoted to the Goddess of Prosperity, tourists think it brings good fortune coming here at the start of their trip.
Meenakshi Amman Temple, Madurai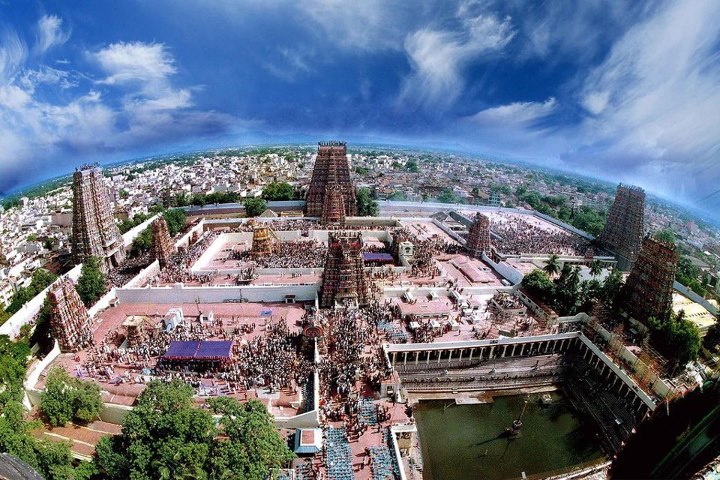 There are over 33,000 sculptures at Meenakshi Amman Temple, and an annual 10-day festival in April and May attracts well over a million people.
Otherwise it's just a paltry 15,000 people per day.
Vaishno Devi Temple, Jammu and Kashmir
Perched on the slopes of the Trikuta Mountains, this is another popular temple for pilgrims looking to go hiking and in winter it's usually covered in snow.
Being in Kashmir it can be pretty difficult to get to though.
Akshardham Temple, New Delhi
One of the newer temples in India (it opened in 2005), 70% of all tourists who visit Delhi make it to Akshardham Temple – and it's easy to see why.
This temple puts on a pretty mean light/water show in the evening.
Khajuraho Temple, Madhya Pradesh
Most Khajuraho temples were built between 950 and 1050 by the Chandela dynasty. Historical records note that the Khajuraho temple site had 85 temples by the 12th century, spread over 20 square kilometers. Of these, only about 25 temples have survived, spread over 6 square kilometers. Of the various surviving temples, the Kandariya Mahadeva Temple is decorated with a profusion of sculptures with intricate details, symbolism and expressiveness of ancient Indian art.
Comments
comments